IP Webcams ideal for websites CS60233WSIRC

Camsecure CCTV

Webcams CCTV Software and Systems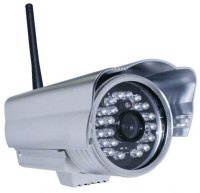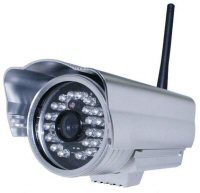 World Wide

RJ45 Network
Connector

Reset
Button

Power
Socket

Camera Lead .8M long

Silver Case as Standard

In addition to the above, all models in the 600 series have a switchable mirror function to give a mirror image of what the camera is viewing if
required, plus a flip option so you can mount the camera upside down if necessary and still see the picture the correct way up. If the camera is to
be used for security then it can be set up to send email alerts and a still picture to up to four separate email addresses when it detects
movement. Should you or your web designer need assitance getting your camera on your site then we provide free telephone support too.

The programming interface can be set to one of 8 different languages to make set up easier for you, and these are: English, Chinese,Spanish,
German, French, Italian, Portugese and Hungarian.

All the models in the 600 range have both a wired and wireless network interface to make it easy to connect via your preferred method. Wireless
interface incorporates WEP (disable/64 bit/128 bit) or WPA/WPA2 encryption. Cameras are supplied complete with a 5 Volt 2 Amp PSU plus
full instructions on how to use the camera and set it up, and also code samples and instructions for putting your cameras on your website.


Do i need IR Cut?


Different models are available either with or without IR Cut filters. Both types of camera perform equally well in the dark, but models without IR cut
are more suitable for indoor or outdoor use where colour accuracy is not paramount, as the lack of an IR Cut filter results in a colour shift on
certain colours which is most prominent with natural greenery due to the increased response to infrared light which is present in natural daylight
or sunlight. If colour accuracy is not of great importance on outside views then the CS601WSIR is a lower cost option.


Do i need any extra software?


The camera is supplied with everything you need to be able to view the camera over the Internet or local network, embed the live feed into your
website and receive email alerts on movment detection - you need nothing else to accomplish this. However, should you wish to use this camera
for recording as a security system then we recommend Active Webcam software, or for really serious professional use, Argus DVR software.
Active Webcam is a very sophisticated program that is available in three versions and can be used to record and control an unlimited number of
our 600 series IP cameras and many other devices.This program has lots of advanced features. You can find out about Active Webcam here and
even get a trial download. If you are interested in Argus software then you can get a trial here. However these cameras can be configured to
operate with most software that have an IP camera facility so you could choose your own favourite program or try some of the free apllications
that are available. Configuration information is included with each camera so you can transfer the details into your favourite program.

£129.99

Everything you need to view your camera and stream to your own website

CS60233WSIRC - Silver Case

Our 600 series IP Webcam range is ideal for use on your own website. These new cameras have all the security of a normal IP camera that
can be used for surveillance and other security options too. But the Camsecure 600 series have another great advantage. They can be simply
added to any website to provide video feeds for your site that can easily be viewed by any current modern web browser with no cumbersome
downloads. This includes Firefox, Google Chrome, Safari, Opera, Internet Explorer and all modern internet enabled mobile devices and phones.

Our 600 series can also be used with popular software including Active Webcam, iCatcher, iSee and many more, and can even be used with
Zoneminder for Linux too. This makes them very flexible indeed but what makes them especially useful is their easy integration into websites.

Each 600 series IP webcam is supplied with full instructions and even code samples to get your camera straight onto your website with the minimum of fuss. There are so many situations where a live webcam can give a really big boost to a website and now we have made it simpler
to achieve, and at a lower cost than ever before with our IP Webcams for Websites. You can see me working live now too.

Specification Model CS60233WSIRC (With - IR Cut)
Silver case standard - Purple to Special Order


1. MJPEG, 1/4" CMOS sensor with pre-set indoor and outdoor modes.
2. Weatherproof, Static and dust protection, IP65 rated.
3. Incorporates Dual Glass Technology. Standard 6mm Lens with 60 degree view
3.
24
LED, IR distance 15M.
4. Wireless(Wi-Fi/802.11/b/g) range can be extended using additional aerials.
5. Motion detection, email alert, FTP upload.
6. Iphone, 3G phone, Blackberry, Smartphone supported.
7. Firefox, Safari, Google, Internet Explorer browsers supported for direct connection.
7. Codes and Instructions supplied for direct integration into a website.
9. Operates with most popular monitoring and recording software for greater flexibility.
10.Can be used on wired or wireless networks with ease.
11.Three resolutions available to suite application, 160 x 120, 320 x 240, 640 x 480
12.Frame rate maximum 30 FPS at 320 x 240 and 15 FPS at 640 x 480
13.Size - 155mm x 82mm x 82mm, excluding bracket and antenna.
14.Three user levels available for direct camera access and security.
15.Programming interface in multiple selectable languages.

£129.99

Silver Case