Camsecure CCTV

CCTV quipment Software and Systems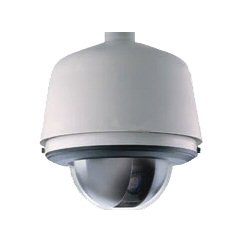 Auto Track Dome - Automatically Tracks and Follows Movement


The Auto Tracking Dome Camera will automatically lock on to a moving target or person and follow its movement. The tracking processing and
control are all handled by the internal electronics in the auto tracking camera making it a high performance and reliable unit.

Full-auto track mode:


Under autonomous mode, when a moving object enters the field of view, the auto track dome will detect it, and trace its movement pulling the
object in to the middle of the field of view all the time. The auto tracking camera locks on to the
first
moving target it can see and follows it
automatically. If the first target stops and a second one moves, the second one will be tracked automatically, quickly and smoothly. This is very
usefull for important places like a treasury, arsenal, and electricity station where there may not be a permanent operator viewing the CCTV as
peoples movements will still be followed and recorded.


Manual - locked track:


In standby mode i.e. when full auto track mode is off, the tracking dome can be moved by users so the cross in the middle of the field of the view
is over the the target you want to follow.

pressing the lock button causes the target to be locked, and then whether the target is moving or still, it will be followed automatically, quickly
and smoothly. Even if more moving objects appear, they will not be followed by th eauto tracking dome as it is manually locked on the selected
target. This can be used under a complicated environment for public security. For instance, if a thief is found stealing on the screen, lock the
person manually with a circle, the thief will be tracked by the auto tracking dome but not the victim.


Area track


With area track you can define areas within the cameras field of view to detect and follow movement. When a target moves in one of the areas the
auto tracking camera will follow it. When movement stops the camera will return to its rest position.

Motion detecting and path tracing of the auto tracking dome are achieved by high-speed DSP. Advanced motor control algorithms make the track
fast and smooth. The camera moduel is a Sony 480 line Day Night camera with IR cut filter and an 18X Optical Zoom.

Horizontal maximum track speed: 60 Degree/Second, Vertical maximum track speed: 60 Degree/Second

Target Distance (metres)

5M
10M
20M
30M
40M
50M
100M

Maximum Track Speed (m/s)

8 M/S
16 M/S
32 M/S
48 M/S
64 M/S
80 M/S
160 M/S

Maximum Target Movement speed (k/h)

28.8 k/h
57.6 k/h
115.2 k/h
172.8 k/h
230.4 k/h
288 k/h
576 k/h

Model CSPTT2

£509.59

Auto Tracking Dome

Note these are currently special order items with a lead time of 10 days.