To Our 9100A Webserver Page

Aviosys 9100A Webserver

£107.99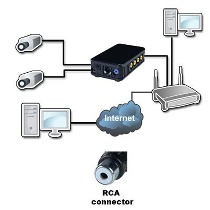 Great Price £107.99

Camsecure CCTV

Webcams CCTV Software and Systems



Aviosys 9100A Network CCTV Video Server with Audio + Full Product Support (including HTML)

Superb Aviosys 9100A 4 way Video Webserver with Audio channel. This is the unit to use to when high performance and functionality is
needed at a low budget. Up to 4 x cameras can be streamed with single channel audio at a great price.

A fully functional web-server with Analogue Audio and Video input.
Broadcastable to the internet and accessible worldwide. With motion
detection FTP and email transfer (motion only - not timed)

With a full feature set, you can set both user and administrator access,
switch on motion detect (when motion is detected, it can either upload data
to a server, or send you a series of images via email!), you have to admit,
the 9100A is one to watch if you want to get your CCTV over IP at low cost!

General Specification:

- A Linux based server
- Embedded Web Server - No PC needed for the unit to operate.
- 10/100Mbps Fast Ethernet Network Access (RJ45 Jack).
- Multiple Video in - 4 different sources supported + 1 Audio in.
- Motion detection

Video:

- Quality : Low, Medium, High, Clarity, Motion
- Resolution : 640x480, 352x288, 320x240, 176x144, 160x120.
- Color Setup : Brightness, Contrast, Hue, Saturation, Sharpness
- Choose to view the 4 video sources in split mode or select one at a time

Part of Camsecure's technical support facility is to set up Dynamic Nameservers on your behalf (if you are not sure about doing this yourself) so you can still access your
cameras without a fixed IP address using a name instead of a number. Check out the Support Section for more information.

The 9100A webserver is an excellent device to use for CCTV over IP, video and audio streaming of up to 4 x camera's over your LAN or the internet.

The 9100A webservers list of features mean you can use the 9100A webserver for IP CCTV, security, news broadcasting, event recording, putting live video on your own website........Or just for fun.

As with all Camsecure products you get full technical support and assistance with the 9100A.

Motion detection :


- E-Mail the Detected Images to preset e-Mail address.
- FTP the Detected Images to preset FTP server.
- Three Sensitivity Level to detect motion.

Technical Specification

- Support Network Protocol - HTTP, TCP/IP, UDP, RARP, PING, DNS, DDNS, ARP, DHCP, BOOTP or PPPoE.
- Default HTTP Port support- Network/Internet
- Support Static and dynamic IP address
- Works with MSN & Yahoo Messenger, AmCap, WmCAP, VWCap, VidCap.
- Built in JPEG Decoder
- Supports GlobalSign SSL Certificate - no need to lower security level.
- Save Video sources as JPG or AVI files (with size limit, number of frames or time, also select a path where to save the file to).
- Audio can be turned on and off
- Audio compression - PCM or ADPCM

Aviosys 9100A

Notes on 9100A Operation.

The 9100A is a great little webserver. Keenly priced and with good performance and great features. However there are certain things to note about its operation.
You can stream video directly to Internet Explorer via an Active X plugin which downloads directly from the webserver when connected to I.E for the first time. You can then
view all 4 connected cameras in a quad mode or in single screen mode. You can also send a single channel of audio when connected using Internet Explorer. The audio input
on the 9100A is Line Level and not Microphone Level so it does need a bit of amplification to work, e.g. the output from the auxillary of a CD player or an amplified
microphone.

You cant access the webserver directly from browsers like Firefox or Google Chrome as they dont allow Active X to run.

We provide code samples that will allow you to stream one video channel to a website and view it using Browsers like Firefox and Google Chrome in an unsecured mode. This
is usefull for a freely available camera for demonstration etc. where security is not an issue.

We also provide code samples to stream a single channel to a web page for use with Internet Explorer only which provide password security. Only the WinWeb code sample
also allows audio.

The Email and FTP function on the 9100A does not operate the same as a webcam program. Most webcam programs allow a timed FTP upload of an image or motion detect
upload and each image over writes the last. The 9100A does not have a timed FTP option, it has a motion detec FTP upload option only. It works by saving the FTP images to
a directory on the FTP server as time stamped images so they can be viewed later after the motion detection alarms have taken place. Email works in a similar way where it
emails a string of images each time motion is detected.

This is becasue these facilities on the 9100A are designed for security use and not as a webcam viewer for FTP upload. FTP is a basic method of viewing images that are not
live, the 9100A webserver is designed primarily to provide live streaming images....and at a great price too.

If you have any questions on the 9100A and its suitability for a particular task then please contact us. We will be only too pleased to help.

See Notes Below